Help spread the word about NORTHEAST!
Below you will find various media materials to help you spread the word about NORTHEAST to your contacts! Graphics and artwork for this year's event can be found below. We encourage you to share these items on your website, social media outlets and/or with your contacts leading up to NORTHEAST!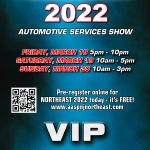 Click to download.
(For physical tickets click here)
"See You at NORTHEAST" email signature graphic

Part of AASP/NJ's NORTHEAST marketing is the distribution of "VIP" tickets to industry members around the Northeast region. Staple these 3×5 inch "save the date" cards to your invoices, give a stack to your delivery drivers, and distribute them to your contacts to urge their attendance.
Please complete this form to receive your free VIP tickets. Note that tickets will be distributed on a first come, first served basis, while supplies last.
If you'd like to order CUSTOM VIP tickets containing your company's booth # and logo, call 973-667-6922 for details and pricing.
NEW FOR 2022:

VIP ticket holders can win prizes

during NORTHEAST weekend!
As you distribute VIP tickets to your contacts, encourage them to enter the number on their ticket when pre-registering, or to bring their ticket to NORTHEAST 2022. Tickets will be randomly picked throughout NORTHEAST 2022 weekend to win several $500 gift cards – and whoever gave them the ticket will win a special prize, too!
Click the dots @ the right of each graphic to download and share to your social pages!
Facility Management
(Booth services, decorating, venue questions)
SMG Exposition Services
Frank Dominici
355 Plaza Drive • Secaucus, NJ 07094
201-330-7773 / 201-330-1172 F
fdominici@mecexpo.com
Event Management
(Exhibitor booth sales, sponsorships, marketing)
Thomas Greco Publishing, Inc.
Alicia Figurelli
244 Chestnut St., Suite 202 • Nutley, NJ 07110
973-667-6922 / 973-235-1963 F
alicia@grecopublishing.com